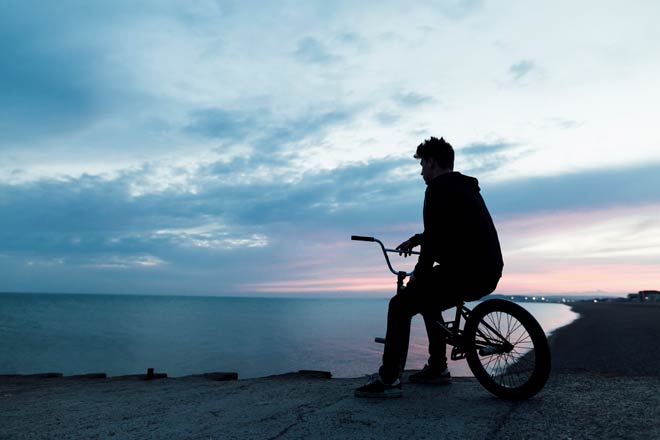 Since starting out on our intentional living journey, my understanding of the role that physical things play in my life has changed significantly. It may have been a bit of a blanket concept, realizing that those small, consistent purchases I was making weren't actually bringing me prolonged happiness in relation to the money I was spending on them. They were bringing me happiness though, sort of.
The truth is, buying things is exciting. It's fun to have a package arrive or to purchase something new. There's a reason that we consume in the way that we do–our own psyche is programmed to consume whatever is available for our own 'survival', and we've been exposed to skilled advertisers telling us that the only thing between us and our dreams is the one product they're selling.
When those things mash together, you get excitement, thrill, and happiness. For a while.
It has always amazed me how, on the first day of a new iPhone launch, people will stand in line to get the phone on the first or second day. Then, after waiting for 12 hours, they enter into the retail store only to pay full retail price for a new phone. With the purchase in hand, they exit the store with arms in the air to cheering crowds as though they had won something.
The retail experience is designed to make us feel as though we won, even though there really wasn't any competition to it. We get the thing, they get our money, regardless of how much, that took hours of our lives to earn. The same phone, for the same money will be available to everyone else in the world a day or two later. It's a manufactured sense of accomplishment that retailers want us to feel.
So, can things make us happy? Sure. For a while–but unless we spend our money on the right things, it won't last. We have to continually acquire in order to keep the happiness alive. So how can we qualify purchases in a way that aligns with our long-term vision, our values, and the lifestyle we actually want?
For spending money, here's the lens that I'm looking through these days:
Is this purchase an experience that I couldn't have otherwise?
If you want to try diving, you're going to need to at least rent some equipment to do it. Unless you're Aquaman, of course. For the rest of us, we'll need to spend money on the tools that will allow us to enjoy time below the surface. If you really love it and keep doing it, it makes sense to own some scuba gear as continuously renting doesn't make a lot of financial sense. Unless you live in a tiny home and are willing to fork over the money because you've saved so much from living in a tiny home. But I digress… we could get into those considerations forever.
I think back to a BMX bike, that I bought in High School, so that I could go out and ride with people that I wanted to get to know better. I did the same thing with a set of golf clubs when I moved to Minneapolis, even though I didn't even like golf that much. It was fun, and it created the experiences that allowed me to connect with now long-time friends (even though I don't play golf anymore).
Is this purchase something that will allow me to create something else?
There are energy givers and takers, and when I buy something I always try to make sure that it is a giver. It creates more future value than it costs to acquire right now. For this reason, the majority of my purchases have been camera and video equipment. I see this as serving a dual purpose, it allows me to create increasingly better-produced videos for Break the Twitch's YouTube channel, and as I improve my filmmaking skills, it will be a potential revenue source and valuable skill that I can trade. This is a relatively mobile offering as well, one that can be done anywhere the equipment can come along, and still fits in within my decision filter for our lifestyle goals.
Just about all of the things I buy these days are directly related to Break the Twitch, and making a solid attempt to do everything I do for it better.
So, what kind of things do I avoid?
Utilizing credit, or debt, to purchase something that does not provide some significant time or monetary return.
Not only are we adding something that will take future energy and time to potentially maintain, but we'll be paying for it with time that we do not yet own. Debt is simply committing future hours of our lives to acquire something here and now. We can't create more freedom if we're already selling our future freedom for something that doesn't earn it back.
Things that create monthly financial commitments, in addition to possible maintenance.
Sometimes, monthly payments can make it possible to purchase something that will allow you to earn more money than it costs. This is a wise use of this kind of investment. A luxury car, for example, costs significantly more per month than a non-luxury car, and costs more to fix. It creates unnecessary costs and accomplishes very little in addition to getting from one place to another. Cars in general de-valuate by up to 30% the moment they drive off the sales lot, so they're just not a great place to spend money in general.
Things that I haven't tried yet otherwise.
It can be exciting to buy something new with the expectation that we'll be awesome at it. If I haven't tried out the thing by renting or borrowing it, and trying it out first, I avoid it. It's too easy to think we'll want to get into a new hobby, buy some piece of equipment for it, only to realize that it was in fact not the equipment holding us back from learning that thing. I try to do as much as I can with what I have available, and then buy as needed.
Of course, there are always exceptions.
I don't feel like there are any hard rules that will always make sense in these decisions. There will always be a balance, an ebb and flow of sorts to the decisions we make. But if we can primarily focus on spending our money in ways that allow us to create, build, and exist more in alignment with our values and the way we want to live, we'll be better for it.