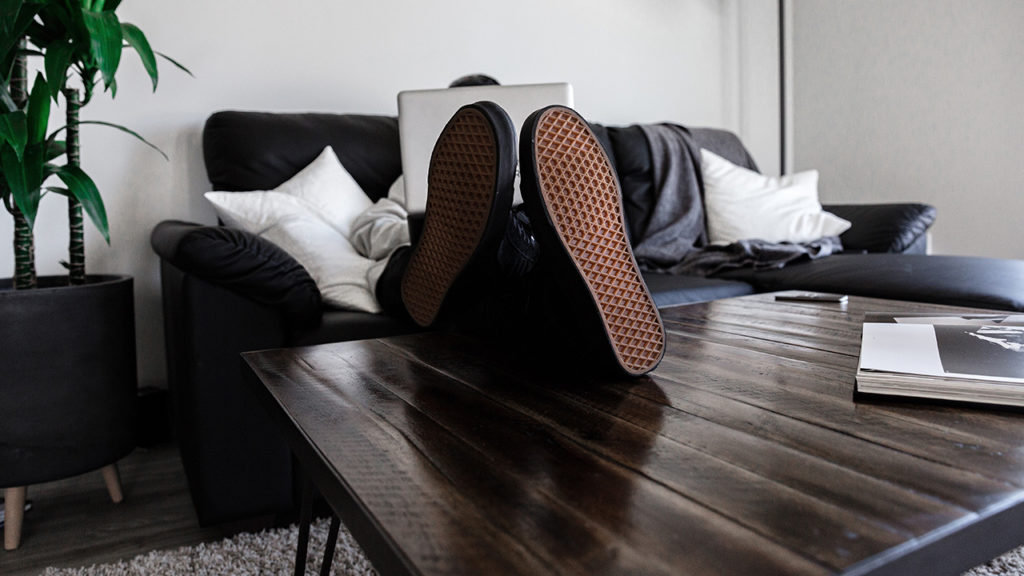 As it turns out, we are still in the middle of a pandemic and winter is coming or already here. Amy and I have spent much of the summer months primarily inside the house, and now is when we're finally able to enjoy the outdoors in Arizona. But for many of you, it's time to trade.
Freezing temperatures, mounds of snow, and iced-over roads mean that more people will be staying indoors, working from home, and generally moving around even less. Minus the weather inverse, the summer months we recently experienced will be the winter experience for many. It was quite a challenging time being cooped up inside for so long. What was helpful in getting through the months of being primarily indoors was to add more movement during the day.
Regular exercise is great for mental and cardiovascular health and muscle development, but that's not what I'm talking about. What I'm talking about is what's often missed—the general movement during the day. The movement of being out and about. Walking from one place to another like from a parking lot to a building or around the block. It's the patterns and daily routines that are more conducive in milder weather.
During those scorching summer months, I found myself waking up and walking a few steps over to the bathroom. Then a few more steps into the kitchen, and a couple of steps into my office. And that was pretty much it. I'd end up sitting there for hours at a time. The additional factor of being cooped up in the house during the pandemic was really tough for me. The lack of movement during the day was psychologically detrimental, especially over an extended period of time.
Since many of us are going into an indoor season with a worsening pandemic situation, I wanted to share a few ideas on how to add more movement on a daily basis.
5 Effective Ways to Add More Movement Every Day
1 / Doorway Action Trigger
This idea is choosing a movement to do whenever you pass through a doorway inside your house. You can put a post-it at the top of the doorway reminding you to do the action of your choosing.
Whatever your chosen movement, every time you walk through the doorway, you do the action. The movement could be bending over to touch your toes, lifting a weight by the door, or reaching up to touch the top of the door frame. It could be a push-up, a squat, or a jumping jack. This is a fun way to incorporate different movements, as you can easily change it up on a regular basis.
2 / Reason to Get Up
Give yourself a compelling reason to get up from where you are and move around during the day. Especially if you're spending a lot of time working at your desk, designing or finding opportunities to get up and move will be helpful.
A great example of this is to put your phone in another room. That way, if you want to check your phone, you'll need to get up in order to do that. You'll likely find that not having your phone nearby while you're working will be beneficial for your focus as well.
Whether it's a phone, a book, or a favorite snack—whatever is a compelling and motivating source for you—consider putting it upstairs or somewhere where you have a little ways to go to add more movement during the day.
3 / Adjustable Standing Desk
Another effective way to add more movement is to get an adjustable standing desk. The keyword here is adjustable so that you're not standing all day. If you're used to sitting most of the time, transitioning to a permanent standing desk is not fun, comfortable, or good for your knees (speaking from experience here).
Working full-time from home on content for Break the Twitch means that I am in front of a computer for most of the day. And so I've been wanting a standing desk for a while and was interested when I was contacted by Flexispot, who offered to send me one that matched my existing office furniture. I decided to try them out after I did some research online and saw that they were one of the most affordable options with a lot of positive five-star reviews.
The desk was easy to put together. It's motorized, meaning it goes up and down with an easy push of a button on the electronic panel. You can also set up and save custom positions. I used to have a standing desk that wasn't motorized back when we lived in Minneapolis; that one took a bit of effort to lift to standing height when I needed it. What I like about the Flexispot electric desk is that it's easy to use, sturdy, and supports up to 150 pounds. Plus they have different color options to choose from. If you'd like to level up (get it?) your office with a standing desk from Flexispot, not only will you save $15 off your purchase by using this link, you'll also be supporting my work here—which I greatly appreciate.
4 / Recurring Timer Or Blocks
The next idea to add more movement during the day is to use a recurring timer or use timed blocks to remind yourself to move. I've heard studies and advice on how it's good to stand up and move around after every 20 minutes. That feels like a lot, especially if you're doing really focused work (but hey, if it works for you, go for it!).
5 / Stand On One Foot
This idea may sound peculiar but it's a great way to work those core stabilizing muscles. While doing routine tasks around the house, stand on one foot until you're done with the task. The next time you do that task, alternate with standing on the other foot.
You can do this while you're brushing your teeth, washing the dishes, or even when checking your phone. As long as the task doesn't require sitting or moving your feet, you can incorporate this in multiple ways.
Of course, getting in a dedicated workout during the day is a solid way to add more movement when we have the time. However, getting daily movement doesn't need to be big like that. The small everyday actions matter too, and these ideas will help to add more movement during these next few months.