"In this book, Anthony provides a unique perspective on minimalism and intentional living while proving that small changes really can make a big difference. If you're looking for practical, actionable advice on clearing the clutter and doing more of what matters, this book is a must-read." —Joshua Becker, Founder of Becoming Minimalist
Every day, we make hundreds of small actions without even thinking about them.
Pulling out our smartphones, pressing the one-click purchase button, pulling down to refresh the social media feed, and more. Automatic actions that have become so deeply programmed into our lives that we don't have the chance to stop and ask ourselves a very important question:
Do I actually want to do this right now?
This book is all about taking a step back, identifying the Twitch—the impulsive, unproductive responses we have to discomfort—minimizing those distractions, kicking the clutter, and doing more of what matters.
Are you ready to Break The Twitch?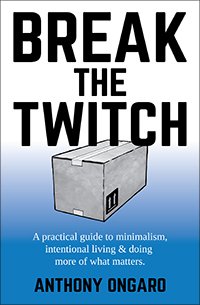 $4.49, Pay via Amazon. Automatically delivered to your Kindle or Kindle App.
What people are saying about the Break the Twitch Book…
"If you're tired of your life being left on autopilot and you long to live more intentionally, you need this book. If you find yourself clinging to technology without knowing why or constantly consuming instead of creating, then this one is for you. It's time to Break the Twitch. And Anthony Ongaro will show you how." —Jeff Goins, best-selling author of The Art of Work and Real Artists Don't Starve

"Short, sweet, and motivating is only the tip of this intentionally crafted book. You're bound to have at least a few moments where you say, 'Wait – spending less and having more of what I truly want is that simple?!' The answer is a resounding 'Yes!' as Anthony proves with vibrant stories and practical steps that anyone can do without moving mountains. Get ready to replace your own mindless twitches with more focus, greater awareness, and less stress on your brain or bank account." —Joel Zaslofsky, Founder of The Smart and Simple Podcast

"The first step to becoming a more mindful consumer is to identify when you are about to take the false first step and stop yourself in your tracks. "Breaking" the Twitch is essentially learning how to hit the pause button and ask yourself what you really want. In a world where everything is designed for you to act on impulse, Anthony shows us how to take the control back into our own hands—which saves us both money and time, in the process." —Cait Flanders, author of The Year of Less

"Anthony has a way of connecting and drawing readers in with a subtle, yet challenging voice. The passion he has for sharing his story of minimalism is evident, and he provides practical, easy-to-follow steps that can make a world of difference." —Brian Gardner, founder of No Sidebar
---
In this book, you will:
Learn how to identify the False First Step (and how to avoid it)
Understand the main triggers causing you to Twitch
Learn how to Break The Twitch with impactful, practical strategies
Build habits that help you make actual progress on your goals
Create the space to experience life beyond the "Twitch"
Five ways you'll benefit from this book:
You'll become more intentional with your attention, time, and money
You'll take real steps towards your most important goals
You'll create space by removing and minimizing distractions
You'll consciously avoid the False First Step
You'll learn how to be comfortable with discomfort
---
Buy The Break The Twitch Book: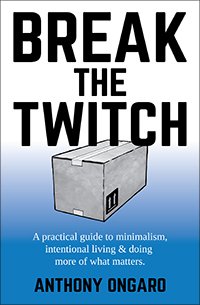 Pay via Amazon. Automatically delivered to your Kindle.
Buy on Amazon