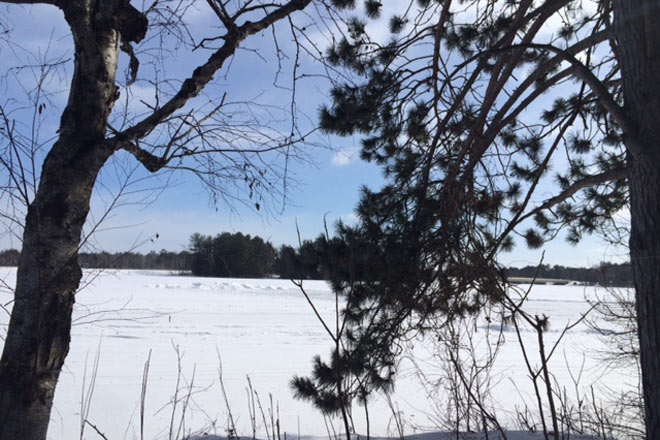 Earlier this year Amy and I went to a cabin home in Wisconsin with a group of friends. It was a great weekend retreat where we all took turns cooking and cleaning. We played games, sat in the sauna, talked and read books.
We decided to leave our laptops at home and that was absolutely the right thing to do.
While I still had my iPhone with me, I had a negligible signal which made leaving it tucked away for the weekend quite easy.
After the constant buzz of work emails, social media monitoring, and general digital life, it was quite difficult for the first few hours, but such a relief once I got over that bump. As I watched others using their phones and sharing social media updates, I didn't feel like I was missing much.
It was actually a freeing feeling to be away from the constant checking of social media, email and other sites. I also ended up writing a couple pages of thoughts and ideas in my moleskine, which probably wouldn't have come to mind otherwise. When you're overstimulated and occupied, you simply have less energy, mental space and time to create any significant output.
Even though the 'screen sabbatical' was somewhat forced due to reception and lack of a laptop, this effect can be created on our own. It just takes more discipline to make it happen.
I can assure you the effects of a screen-free sabbatical will be felt for a long time afterwards.
Here's a few things you can do to set it up for yourself:
1 / Block off the weekend
Set aside a weekend (or couple of days) like you're going to be off on vacation during this time. Don't make any plans that would require you to communicate via normal methods (a phone call is fine, but avoid text messages, social media, etc). Tell others you won't be available, or set your voicemail to indicate this. Discuss and take care of anything needing to be done prior or schedule it for after the weekend. You're not going to be as responsive to any text, email, and social media for those few days.
2 / Put away your electronics
The key is to make the electronics less accessible the night before your screen-free sabbatical. Power down your laptop or iPad and store it away from sight. Turn the cell phone off (if you're able) and put it in box or leave it in the other room. Unplug your TV. Anything that has a screen is to be turned off or put away.
3 / Pay attention to what you do
On the morning of your sabbatical, relax and do whatever you feel like doing as long as it doesn't involve a screen. Make breakfast for yourself, take a walk, read a book, paint, or try something new. Whatever activity you do, write down or pay attention to what you notice in the process. How do you feel? Relieved? Anxious?
4 / It takes time to unwind and relax – don't expect immediate calm
As I mentioned earlier in the article, it takes several hours sometimes longer to unwind the 'screen checking pattern' that we encounter in our everyday lives. Give yourself time to unwind from this pattern – it will not happen right away. You may feel anxious and frustrated but know that it gets easier with each hour that passes.
Have you ever taken a screen-free sabbatical? What do you do to help avoid going back to the screens during that time?
Free 7-Day Digital Detox
Create some much needed space in your digital life with this free 7-day email video series from Break the Twitch.