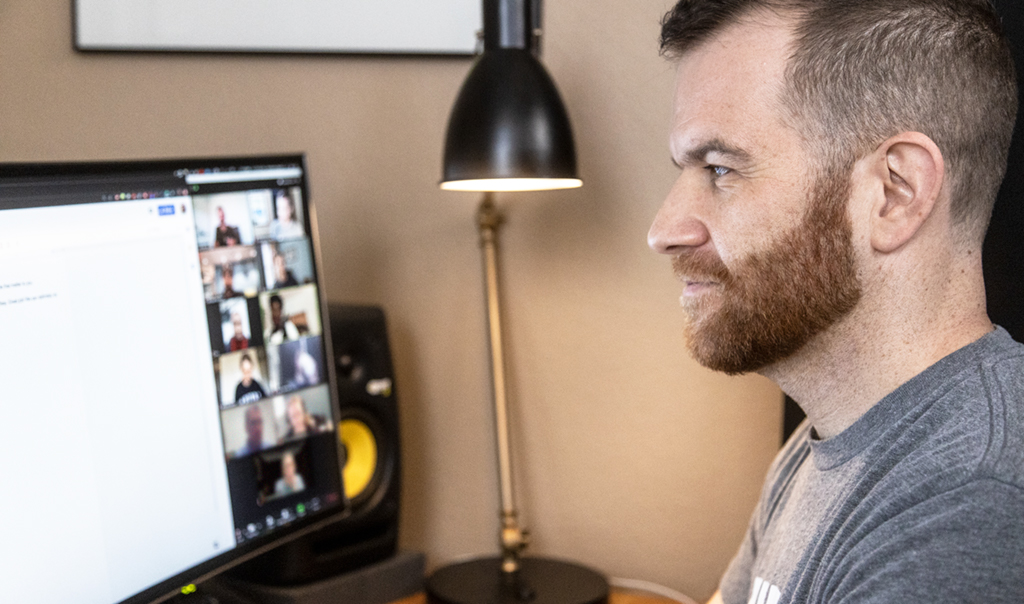 Improving my focus has always been, well, a focus point for me. My ability to stay zoned-in on a task wasn't great even when textbooks and taking notes with a pencil were the cool thing to do. But, add mobile screens, infinite accessible information, and constant connection to the mix? Good luck.
I've always had to—and will always need to—work actively on my ability to focus on difficult tasks. As a teenager, I thought these magical focus abilities would just "happen," much like facial hair and going from tenor to bass in my high school choir.
Newsflash: it did not.
It has taken decades(!?) of intentional practice to sharpen my skills and understand the environment that works best for me.
It turns out, building the ability to focus is exactly like building any other habit.
Go figure, right? And if I can do it, so can you.
For starters, the same foundational principles of habits apply when it comes to improving your focus.
Start smaller
Repeat as often as possible
The goal is the action itself, not the outcome
Environment affects discipline
External accountability helps
When it comes to focusing, here's how these principles apply.
1 / Start smaller
We're increasingly less accustomed to sustained focus these days. Most television shows change scenes every three seconds or less. We scroll past multiple posts and pictures on our feed within seconds. While it might feel crazy, starting small may mean setting a timer for 5 – 10 minutes and working on something for that period of time without changing tasks.
2 / Repeat as often as possible
Repeat your desired task over and over again to build up a pattern of successful focusing. The repetition builds trust in yourself and respect for the timer.
3 / The goal is the action itself
The goal is to sit and focus on a single task for the duration, not "get a ton of stuff done" in the duration. You could stare at a wall or meditate for the same length of time and have similar results over time.
4 / Environment affects discipline
You most often eat what you can see, and what's easily available. A candy dish is a disaster for me, so we don't have one. It's the same with focus. Change the environment as much as possible by turning off notifications, wedging your smartphone underneath a couch cushion, and changing the locks on your study so family members can't get to you. Kidding, but you get the idea. Another way of putting it is to design your environment with intentional friction and non-friction for improved focus.
5 / External accountability helps improve focus
In the initial focus-building phase, you need to subconsciously prove to yourself that the timer is gospel and you have what it takes to go from start to finish. While my focus ability has improved massively since the time I was first blessed with facial hair, having accountability has absolutely skyrocketed my focus over the last six months.
Despite finding Pomodoro timers (45m on, 15m off), time trackers, and other tools helpful, I never found they worked as well as they should. Especially when working from home, since I was the one in charge of the timer! I could just stop it and go look in the fridge. There was little intrinsic motivation to actually heed its power—until November of 2019, at least.
That's when we started running group focus sessions for Break the Twitch community members. We all mute our microphones and hop on scheduled video calls to work together for 90-minute sessions. I provide a video stream of my desk timer that shows up on the call and after a brief conversation over chat, we're off to work.
When the sessions became more popular with community members, I found myself participating in two or three 90-minute focus group sessions every day. Knowing others were working along with me made it incredibly easy to focus on my chosen task for the duration. It's similar to working in a library or coffee shop quietly; you see other people working so you just work, too.
With the consistency and repetition of the focus group sessions, I started to notice something incredible: the same accountability I felt to the 90-minute session transferred over to my desk timer when working alone. Even when I wasn't in a session, I felt the same accountability to focus for whatever duration the timer was set for (typically 90 minutes).
All the principles come together to improve focus
Choosing something and working on it for a chosen length of time or until it was done. Magic.
To be fair, I didn't expect this to be a result. Most people are happy with the accountability brought on by the scheduled focus sessions themselves, as I've been. But it's nice to see an unexpected positive result from those sessions as well.
You can apply the same principles and likely get similar results.
Even after six years of writing and exploring this stuff, I'm still consistently surprised by how much of life is tied into the foundational elements of intentional living. We are indeed creatures of habit, aren't we?