Productivity. Systems. If those words don't get you all kinds of riled up, I don't know what will. Kidding. Unless you're a total productivity nerd, these words probably elicit a reaction that would more quickly have you click away from this article than anything else.
I've explored about three million different systems for tasks and productivity tracking and find that most of them get way too complex, way too fast. It's always exciting to find or start some new solution with big promises of time savings. What usually happens is it gets too complex too fast and it all explodes—which just leads to giving up on it completely.
The most important part of any system is for it to not get too overwhelming so you actually, well, use it. After some experimentation, I've landed on a more simple and minimalist productivity system for improving your attention span by distributing different types of tasks throughout the day.
What "productive" even means
First, what does "productive" even mean? When I say "productivity," I don't mean just work and how efficiently you can do it—I mean it in a holistic, life sense.
I view productivity more like "single tasking" — meaning how focused on any one task are we? It could be rest, maintaining the household, getting exercise, playing a game, or working! Rest or play can be just as productive if it's needed because they recharge us so that we can have more productive work times.
I've tried productivity systems by some other guys in the productivity YouTube space, like Just Joe Lee, Thomas Frankly, and Matt D'Avella, and most go into much more detail than I need. So here's what I ended up doing that seems to work very well without taking up more time than doing the actual work.
A more minimalist productivity system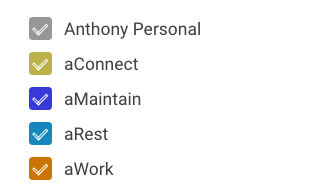 Per the image above, there are four different categories—Connect, Maintain, Rest, and Work.
Connect is what it sounds like, time reserved for connecting with colleagues, family and friends.
Maintain is all the household or maintenance activities that are simply a part of life—such as cleaning the house, cooking, running errands, etc.
Rest includes play, self-care, meditation, naps, and any kind of reflection.
Work is what we normally think of when it comes to productivity—focused, dedicated work time.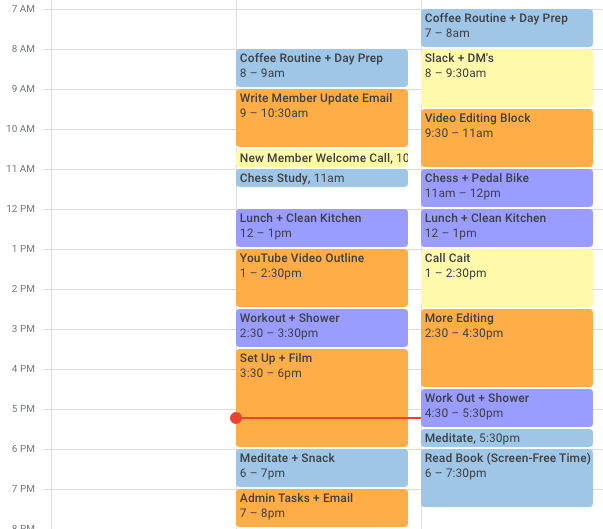 Typically my workday starts with making coffee in a more mindful way. I consider it as a 'rest' activity since it's a peaceful and meditative routine for me.
I often will then take a short break to play a chess game after the focused work session to recharge a bit. Especially with the pandemic, I always try to make sure I have enough 'connect' sprinkled throughout my week, like a call I had recently with my friend Cait Flanders about her newest book.
However, I also make sure there aren't too many Connect activities during the day since all that talking doesn't usually get much done. I then have another Work block like writing a newsletter next on the calendar, followed by Maintain activities such as making food or exercising.
Note that the blocks on the calendar don't need to be perfect. The idea is that you'll generally have an idea of how your day and week are balanced between the different categories of Connect, Maintain, Rest, and Work. The categories might overlap a bit for you, and that's okay! You can even change them up.
The why behind the minimalist productivity system
Why is this even important? The reason why I do this minimalist productivity system is because of what I call the Fire Bucket theory.
Imagine there's a fire burning and so you fill a bucket and start dumping the water on it—that's doing the Work in this example. But unfortunately, you're going to run out and have to go get more water eventually. In this situation, many of us keep trying to put out the fire with an empty bucket.
In some cases, it can get to the point where some of us may try to put out the fire with a bucket itself. It never really works (unless there's a super small fire remaining), and now you have a damaged bucket that won't even hold water anymore.
What we need to do instead is break up the process. Take a step back from the Work, get more water, and then return back to the fire. It's going to be so much more effective than chopping trees with a dull axe if you prefer the "Sharpen the Axe" analogy instead—it's the same kind of idea.
Keeping the system flexible and sustainable
Splitting up your day in the four categories of Connect, Maintain, Rest, and Work, helps you to keep that balance for yourself. It helps you to continue to prioritize the activities that often get de-prioritized when life gets busier. We will have more focus and energy to give to our work when we split our days and weeks up.
This minimalist productivity system is meant to be flexible. Every day is different for me; I don't have a perfect 5-day work system. What this system allows me to do is build out an entire workweek. That way, I can schedule out work and other categories and then write in my notebook what I'm actually working on.
Because let's face it, the work is never ever done. For our emotional and mental health, it's more sustainable to have the work scheduled throughout the week along with rest, connection, and other activities.