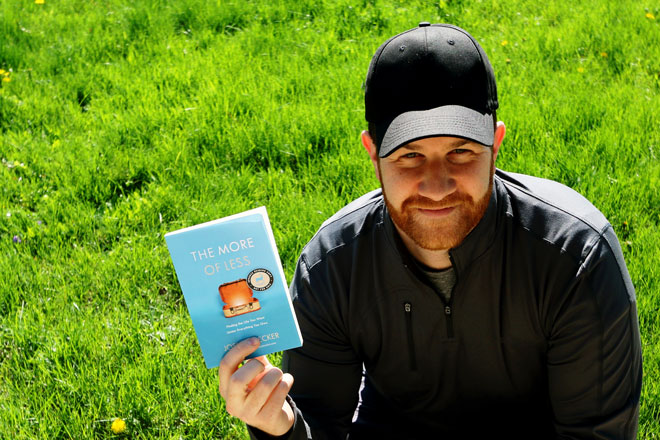 If you've been hanging around with me for a while, you'll know that I am a huge fan of books. I've read a wide variety, but typically end up in the nonfiction section. I love learning about the world through different people's perspectives and sharing my own ideas on what I read.
Every now and then, a book that really hits the nail on the head comes along and changes the way I think of things. Sometimes that change is simply a reinforcement of the way that I already view the world, and sometimes it's a complete shift all together.
Last week, I received an advance reading copy of The More of Less by Joshua Becker, and have really enjoyed reading through. I can safely say that this book will be an impactful, helpful guide for those seeking to change their lives in a meaningful way.
At SimpleREV 2015, a simple living community event, I had the opportunity to share my minimalism story with the group. After some discussion, Joshua asked if he could use my story for his upcoming book. When you pick up the book, check out page 63 and you'll see it there! I am excited to be a part of such a helpful book on a topic so close to my heart.
When he asked to use my story I knew very little about the book, so I've been incredibly excited to read it.
The book is about 220 pages, but makes for an easy read. Joshua is saying that this is his best book yet, and I believe it. I found The More of Less to be very well organized, written, and packed full of useful information. The stories within are captivating, and truly provide an important perspective for you to consider your options and identify your preferences. Think of it as a narrative guide to living your best life – I found it quite good overall.
I also found it interesting that he not only shares his own story of finding minimalism and building the life he and his family so wanted, but also includes the stories of many others who have made significant changes to do the same. The book really does have a breadth of perspective and advice to offer.
Minimalism has really been about developing tools that allow my wife and me to live in alignment with our personal values and goals. It's not something to get hung up on, feel restricted by, or let hold you back. It's not about suffering, it's about creating the space to let the light into your life.
Even as a minimalist, one that has been writing about this sort of thing for over two years at that, I found the stories, perspective and expert guidance that Joshua provides in this book incredibly helpful and I think you will too.
At its heart, this isn't a book about owning less stuff – it's about finding your why, and using the tools available to live in alignment with those values every day. It's definitely worth picking up if you're interested in exploring more about minimalism, intentional living, or simply taking a look at a different way to live.
Order the book, you won't regret it. I hope you enjoy the book as much as I did, and would love to hear your thoughts on this page once you give it a read.