Last weekend I made the trip from Minneapolis to Los Angeles to take care of some business and visit some good friends. When booking the flight, I was using an app called Hipmunk (which I'd recommend) to find weekend deals to different places I want to visit. I saw a $170 direct flight on Spirit Airlines to Los Angeles and decided to go for it.  It was about $100 cheaper than the next competing airline so it was a no-brainer, but I quickly learned about some of Spirit's restrictions.
If you bring a carry-on bag larger than a purse or backpack, Spirit charges a $35 fee each way (in the best case scenario). I decided to see if I could avoid that fee by only bringing a standard-sized backpack for the 3.5 days that I would be in California. The image below shows everything I brought with me, except for the clothes I wore to the airport and a Macbook Air which was already inside the backpack.
The first thing I noticed was that making decisions on what to pack became very quick. I had less space to work with, so I wasn't left to make a plethora of decisions about different outfits and pieces to bring. I packed a couple shirts, a pair of shorts, pajama pants, underwear, socks, camera and 35mm film (I know), my moleskine, earphones and toiletries. I wore a pair of jeans, a linen button-up and a gray hoodie to the airport.
From there, I decided to reallocate the $70 I would have had to pay for a suitcase to make my experience better overall. For $45 upgraded to a 'Big Front Seat' for the flight out there and a normal seat in the 5th row for the return flight at a cost of $18. Both made it much more convenient to get on and off the plane and the "Big Front Seat" (seen below) was super comfortable and spacious.
Once I arrived, the remaining $6 (and then some) was spent on food and hanging out with friends. Here's some of my favorite ramen at a place in Little Tokyo, Hakata Ramen Shin-Sen-Gumi: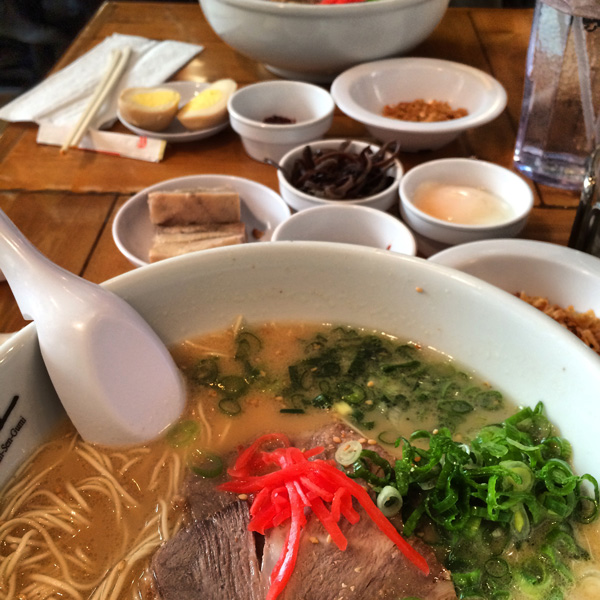 I found this to be another (delicious) example of how carrying less stuff can really pay off in the way of having a better overall experience in life. I'm excited to experiment more with different packing strategies to save space and find more opportunities to boost life experiences overall.
I didn't have a roller bag to drag behind me through the airport or throw into the trunk of a car, everything I needed was right on my back. It made for a quick pass through TSA security at the airport as well.
Life just seems to get easier without extra stuff.