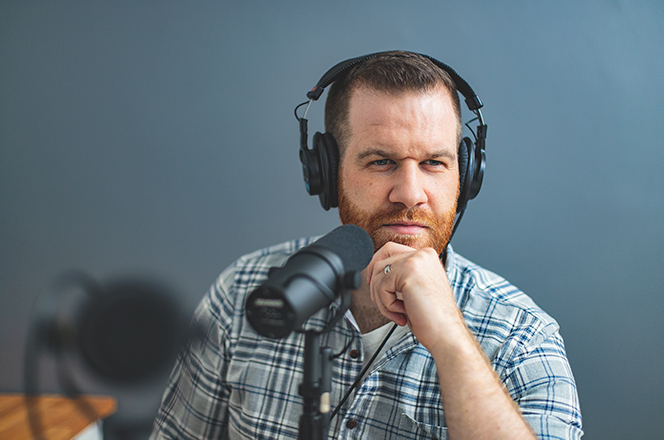 Welcome to the Break the Twitch podcast, a weekly podcast and show on doing more of what matters through minimalism, habits and creativity.
I'm looking forward to our conversation, which will take about 2 hours from when you walk into the BTT on-the-go studio (location will be provided in calendar invite).
We'll be chatting about what you're up to these days, how you minimize distractions and keep on doing the work that matters to you.
Here's what you need to know
There will be an audio and video component. The audio will be on iTunes and other podcast networks, and the video will be shared on the BTT Podcast YouTube channel.
We'll have questions for you about your background and around the topics of minimalism, habits, and creativity, but it's meant to be more of a conversation that naturally flows.
We'll delve into a few questions around what you're up to and what's been helpful in minimizing distractions and building momentum towards what's important to you.
An important note is that this podcast is really about people in progress—I don't expect anyone to have it all figured out (I certainly don't, and my audience is well aware of that). It's more about sharing experience, stories, perspective, and process.
If you'd like to share a special offer or giveaway for the audience, you'll have an opportunity to do so before we talk about where people can find you and wrap up the conversation.
We'll wrap up the session with taking a few photos of you.
The introduction and ending are all taken care of in post-production.
When your episode goes live, I'll send a promo video and photo for you to use and share with your audience.
What's needed from you
If you haven't already, please provide me available dates/times for the recording session. If we already have a confirmed time, I'll see you then.
Before our recording session, you can email me a quick introduction of yourself. It can be whatever you want the BTT audience to know about you in 3-5 sentences.
If there's a specific topic or thing you'd like to talk about, please let me know before our recording session. This could be a new project you're working on, a special offer, giveaway or promotion.
Come with a question (for future podcast guests) in mind that you'll write on a piece of paper and leave behind.
Be yourself. You're a guest on the podcast because I think you're awesome and you have valuable things to share.
I appreciate you for taking the time to be on the BTT podcast and show. Talk soon.