Anthony's Note: This is a guest post by Taylor, the creator of the CeMental Break movement. Enjoy the read, and let's help grow this excellent initiative.
CeMental Break (Cement + Mental Break) is a movement to encourage mindful moments using sidewalk chalk. A CeMental Break creates a space for a passerby to pause, then guides them through a mini-meditation. These meditations can focus on being in the moment, feeling gratitude, or showing some self-love.
The idea for CeMental Break came to me all at once while reading an angsty young adult novel, with a cat in my lap, while spring sprung in Minnesota (which means it snowed in April). I've never had an experience like it. The only thing I can compare it to is walking on the sidewalk in the winter and having a neighbor accidentally shovel a heap of snow into your face (which also happened that day).
Like, "BAM! Here's an idea for you! You can furiously brush it off, or you can make a snowman. Your choice." I'm trying to make a snowman.
I've been meditating regularly for about three years, and I'm currently in graduate school for Holistic Health with a focus on mindfulness and meditation. I've had conversations with dozens of friends, family, and strangers about how awesome meditation is. The responses tend to sound like, "Yes, I should do that, but I don't have the time." Or, "I'm no good at meditating." Or, "I can't sit still for that long."
What I'm learning is, formal meditation is not the only way to become more mindful throughout your day and your life. It is one great way, but there are many others.
CeMental Break is mindfulness for everyone.
The mission: To promote mindfulness joyfully, colorfully, and publicly. To eliminate barriers to more mindful living by making it fun and accessible. To create judgment-free opportunities for self-care in public space.
I hope, one day, taking to the sidewalks to create mindful moments for our communities is a normal thing. I can't chalk-up all the sidewalks of Minneapolis alone, and I definitely can't spread the movement further without the help of others. I would love to see the CeMental Breaks that you create; here is how you make one:
1 / Draw an open circle on some pavement that is open to the sky.
The open circle is meant to represent our awesome imperfection; it also feels welcoming, like an open door.
People tend to stop noticing signs (and chalk) after a while. Create your moment in a place where the rain will wash it away so you can create something new.
2 / Write out your mini-mindful-moment instructions.
Do your best to keep it positive. For example, instead of, "stop looking at your phone," you might write, "take two deep breaths, find your favorite tree."
Need more ideas for mindful moments? Visit the CeMental Break Instagram or website!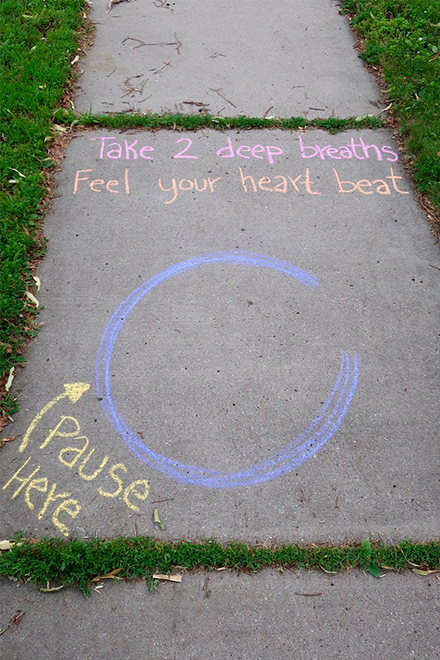 3 / Decorate outside the circle however you'd like.
Leave the middle empty for the CeMental Breaker's feet or wheels.
This part is your meditation moment! Get creative and spend some quality time with your chalk. No rules, just colors and shapes, and joy.
4 / Participate in your CeMental Break.
Stand in the open circle and participate in the moment you just created.
Feel proud of the mindful moment you created for your community.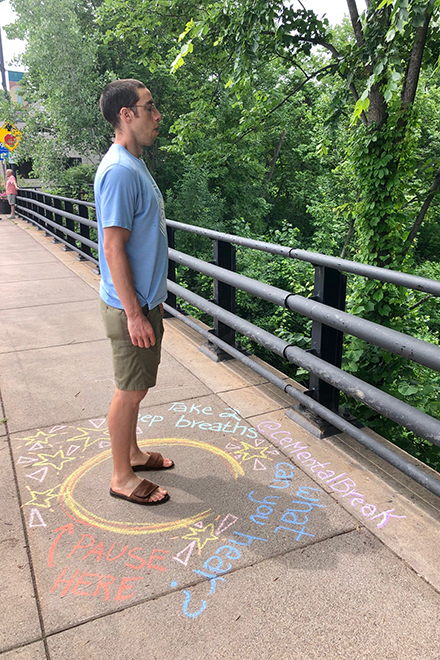 I can't wait to see what you create, make sure to tag @CeMentalBreak if you post photos to Facebook or Instagram. If you would like to send pictures to me directly, I would love to see them! You can email me at [email protected]
I'll leave you with a favorite quote that always inspires me to go out and create CeMental Breaks: "Color is the place where our brain and the universe meet." – Paul Klee