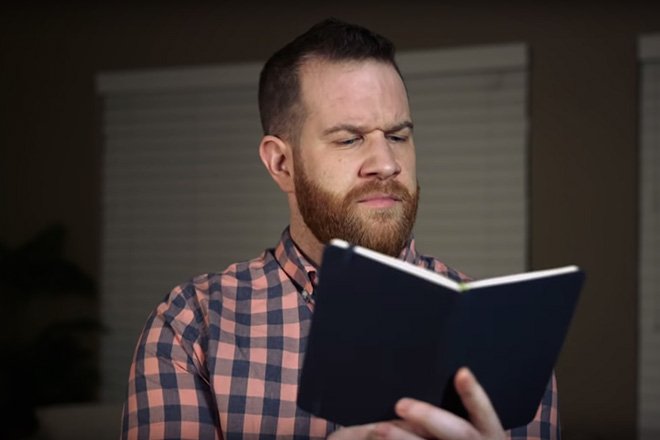 Towards the end of December, I start thinking about what I want to focus on in the new year. Whether it's through New Year's resolutions or general goal planning, there are ways to increase your chances of success. I tend to do goal planning throughout the year regardless of the season, but the approach of a New Year is an exciting time to get started on a changes you'd like to see.
Setting goals (in the right way) can make all the difference when it comes to actually following through (and I'm speaking from experience, here).
I know a thing or three about how to make goals that don't work.
When we started decluttering a few years ago, I came across an old Moleskine notebook in my drawer. I hadn't seen (or used) that notebook in several years, but decided to flip through the pages to see what I might find. One of the first discoveries was a page written towards the end of 2008, when I was planning my goals for the upcoming new year.
I remember writing that list down with massive aspirations in mind, and I also remember turning the page and never looking at the list again. Needless to say, those goals weren't fulfilled when the end of 2009 came around. Dreams tend to slowly evaporate when left unattended.
Many people make resolutions and goals that may start strong (if at all), only to dwindle down in the following weeks. I was one of them for many years.
Luckily, I've learned from my mistakes over the years and have made steady progress towards the goals that I never got close to fulfilling previously.
Here is some advice around goal planning, and how to avoid the mistakes I made:
1 / Pick 2 (or at most 4)
While it can be tempting to dream big, we simply can't focus on more than a few things at a time. Don't limit yourself in the brainstorming phase; you can make as long of a list as you want. But when it comes down to top priorities that you want to focus on—keep it to two, three, or at the most, four.
In a certain way, making a long list of aspirational goals is kind of a false first step. It tricks your brain into thinking you're making progress on those things because you're thinking about and planning them. But it's not actually taking action. Sometimes, the act of planning and talking about the goal is enough that we never actually make any real progress.
2 / Define the action needed
Instead of making an outcome-based goal—such as losing 20 pounds or reaching a certain amount of savings—define the regular action that will get you there. An example of this in my life right now is going to the gym four times a week. If I walk through the door of the gym, I'm successful. Each day's success is motivation to keep on going. Regular, repeated action of going to the gym is what gets me nearer to my fitness goals.
3 / Cut it in half
Now that you have your action, take whatever it is and cut it in half. So if you're thinking you'd like to study a new language seven days a week, do four days a week. If you're thinking about writing 500 words a day, then set the goal for 250 words a day. Setting a lower initial goal makes it easier to consistently hit that goal. After all, it's the repetition that makes the magic happen. You can always go an extra day or for a longer duration if you're feeling extra inspired.
4 / Make it visible
The worst way to stay on top of the goals you want accomplish in your life is by turning the page and never looking at them again. If it's out of sight, it's out of mind. So write it down on a big piece of paper and stick it on the wall. Keep track of your progress in a journal—whatever it takes to keep it visible and in mind.
5 / Seek accountability
You don't have to do it alone. Seek accountability with the goals you'd like to accomplish in your life with others who are working on similar goals.
A couple months ago, I launched the Attention Collective, currently made up of over 100 people who have joined to be a part of the intentional living movement. Members get access to a private community forum, the full audio course library—around topics like minimalism, focus, meditation—and a new audio course each month. The courses are 21-day audio series that either asks a question, shares a consideration, or provides thought-provoking intentions as you start your day. In addition to all of that, I'm now doing 20-minute welcome calls with all new members. You'll get to hop on a video chat with me and we'll talk about whatever you want: your goals, what you're working on, and I'll also show you around the community.
Best of luck in goal planning for the New Year!