Instantly Improve Your Focus and Productivity. Yes, Seriously.
Working from home doesn't have to mean working alone. Join Anthony and over 100 wonderful Break the Twitch community members for scheduled, focused work sessions, like-minded community, and a library of tools that bring your intentions to life. It's the digital coffee shop for kind people focusing on meaningful work, and you're going to love it.
---
You're in good company
When distractions get managed and you own your attention, the meaningful work gets done. Here's what some of our members have to say about their experience in the member community.
I work remotely and there is something magical about working alongside others that gets me into work mode.
The Focus Group offers a form of gentle accountability and camaraderie that isn't available when working independently.
Samantha S.
The community is a friendly group that comes together with a common goal of improving themselves by changing habits, reducing interruptions be they physical, mental or digital, improving productivity and reducing anxiety and stress.
This is place where I know I can work productively alongside like-minded people in a safe and friendly environment.
Paul B.
Because of the accountability, I make sure to only bite off an amount that I can chew. And then I'll be damned if I don't finish what I just told people I was going to finish.
Patrick L.
The Focus Group Membership
1 / Digital Co-Working Sessions
Ever noticed how you get more work done when you're at a coffee shop with other people? We schedule 90-min silent video chat sessions throughout the week and work together from home.
2 / Accountability Community
In the Break the Twitch Slack channel, you'll share your goals with other members, we'll help you stay accountable—and vice versa. Share resources, support, and success, together.
3 / Secret Break the Twitch Content
Every month we release one extra video exclusively for members, occasional blog posts, and update videos. Take a deep dive with Anthony each month on BTT-related topics.
4 / Welcome Call
We'll start off with an (optional) 20-minute video call to get you set up in the community and identify your top priorities for the next 30-60 days. You'll have an action plan to kickstart your community participation and a recommended audio course to guide your path.
5 / Audio Course Library
As a member, you get immediate access to 12 audio courses designed to start your day with focus. Instead of checking your phone, imagine waking up with 5 minute daily episodes that center and focus your efforts for the day.
Who is this community for?
Our core community beliefs:
A rising tide lifts all boats.
If we work hard, we can get better.
Imperfect action beats perfect inaction any day of the week.
To fail is to be human—so we keep showing up.
Learnings are deepened when shared with others.
Kindness is essential, both to self and others.
It's probably best if:
You live within U.S. and European/U.K. timezones (most focus sessions are scheduled between 10 AM to 10 PM EST)
You work from home OR have a side-hustle/creative project you want to work on!
What is digital co-working?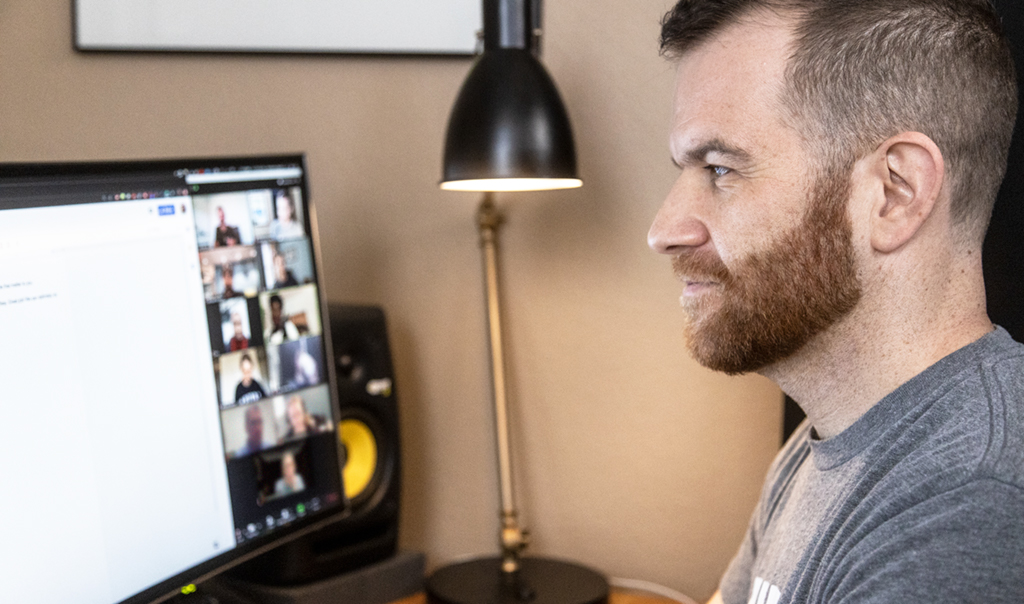 This community is like a digital coffee shop where everyone works on their own things, but with the added benefit that the people around you are rooting for you, too.
The sessions are silent for 85 minutes, then we chat and update each other on what we got done for 5-10 minutes at the end.
This isn't an online course or a system to implement—it's immediate action with immediate results, and direct accountability from a passionate, kind community of people all over the world. All you have to do is show up.
Because this is an intentional community, we limit this group's openings each month to make sure everyone is welcomed warmly—see how many spots are currently available below.
What If The Co-working Times Don't Match My Schedule?

We're always adding more to the calendar, but you can also request specific days of the week/times. Once you've been a member for three months, you can host your own sessions as well!
What Is In The Audio Course & Content Library?

Each audio course lasts 21 days and is available in a downloadable MP3 format. Each episode is about five minutes long and helps you start the morning with deeper intention and focus on your goals. All narrated by Anthony (the creator of Break the Twitch).

Foundation — Seek gratitude, find a base, & affirm the positive.
Declutter — Inspiration & a daily guided path to decluttering.
Build — Develop & solidify a new positive habit in 21 days.
Focus — Remove distractions & build a deep focus habit.
Meditate — Build a 10-min meditation practice from scratch.
Mindful — Take ownership of your attention.
Confidence — Build self-confidence in small ways each day.
Create — Get your creative juices flowing & take action.
Inspire — Re-energize your spirit & kick things into gear.
Intentions — Find & set the intentions you desire for your life.
Reflections — Questions & ideas to reflect upon each day.
Growth — Thoughts on growth, learning, & values-based living.

There is also a habit stacking guide with PDF workbook + videos, meditation tracks, and more!
How Easy Is It To Cancel My Membership?

Very, very easy. You can do it yourself in a few clicks right on the member dashboard. We're confident that you're going to love being a part of this community, so we don't make it a hassle to leave.
You Didn't Answer My Question.

That is not a question, but there's still an answer for you. Email [email protected] (that's me) and I'll answer any question you have. Including ones that I might have to use Wikipedia for.
Choose Your Flavor and Let's Get Cookin'
It's time to get things done, together. If you're not 100% happy being a part of this community, we'll refund up to a full month of your membership cost.
The Focus Group Membership
15 of 120 Seats Currently Open
Membership Perks
New Monthly Secret Videos
Full Slack Community Chat Access
5+ Weekly Co-working Sessions
1-on-1 Welcome Call
Full Audio Course Library
The Coaching Circle Membership
2 of 4 Seats Currently Available
All Focus Group plus…
60 min 1-on-1 Monthly Video Call
Custom-Tailored Action Plan & Accountability For Your Specific Goals
Direct Text Message and Email Support from Anthony
---
The Focus Group Membership (Most Popular)

The main attraction—includes everything from The Basics Membership plus…

Free 14-Day risk-free trial (You're going to love it).
Full Slack channel access

Access to all channels including the private #accountability channel

Video Co-Working sessions (5+ per week)

Request session times and lead your own sessions after being a member for 3+ months

20-Minute welcome call

Schedule a 20-minute video call with Anthony to ask questions, get set up in the community, and talk about tools and strategies for attention building.

The full Audio Course & Content Library

14, month-long audio courses with 3-5 minute daily audio recordings, meditation tracks and more. Start your day with focus and intention.
The Coaching Circle Membership

1-on-1 work with a custom plan for your specific goals to manage distractions and get focused. You'll see life-changing results in 30-days and continuous improvement for as long as you continue—guaranteed. Includes all Focus Group features plus…

60-minute monthly coaching call to get "un-stuck" and establish a clear-cut plan of action.
Direct text message access and support with Anthony
A customized plan for your specific goals to work through each month, and accountability to see it through.

This is perfect for if you want to start a YouTube channel, build a side-hustle for extra income, finally write and finish that book you've been thinking about within a certain timeframe. We'll get it done together!
---