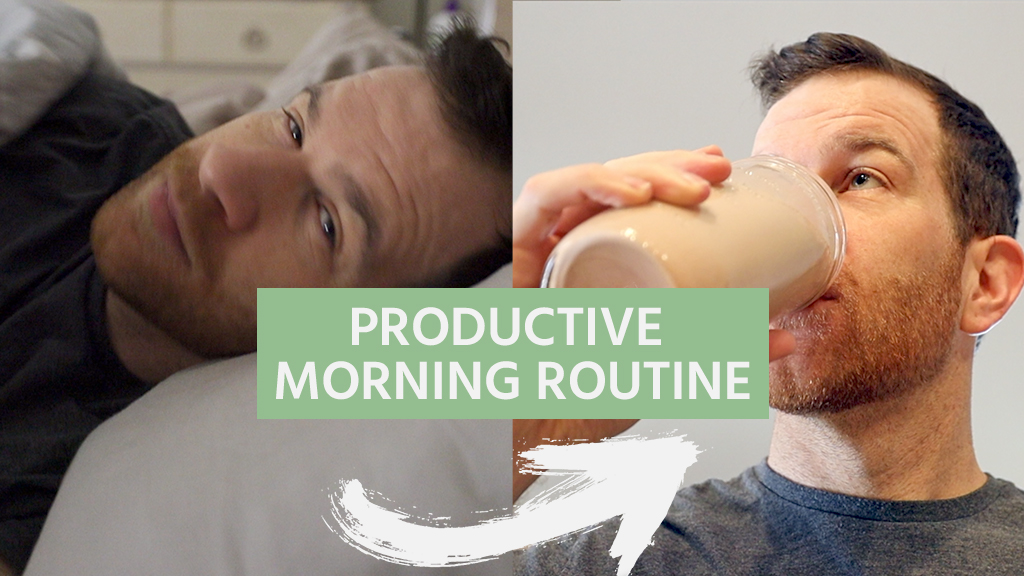 I like to start my morning routine around 4:00 a.m. when the house is quiet. I tend to go out for a run while my wife Amy is still asleep.
Just kidding. As you may have gathered from the title of this post, I'm a night owl. Both Amy and I are, and it can be challenging to have a focused morning when we tend to go to bed later. The flexibility with working from home (while nice) can also result in the mornings getting away from us before we know it.
As a night owl, I've found that the night before is the most important part of a productive morning routine.
I've noticed this trend in the neighborhood we live in. There are some people who tend to park on the left side of the street, facing the wrong direction. I assume they're doing this to get back in the house quicker after a long workday. For my friends in the U.K., I can imagine you reading this and going, "Anthony, that IS the correct side of the street. What are you talking about?"
But this is strange for those of us in the U.S. for two reasons. One, they're parking on the wrong side of the street, facing in the opposite direction. Two, they're trading a few moments now, for a guaranteed delay to get out of the cul-de-sac the next time they drive. They still have to turn around the next morning.
To me, this illustrates the importance of preparing the night before for the next day. By not doing that, we cut corners in the near term at the expense of tomorrow. Unless you're running late for something, taking the extra time to pull around and orient your life in the right direction (or in this case, your car) is helpful.
It's actually around 9 p.m. the night before when I start preparing for the next morning. Typically by then, we're back from the gym and are cleaning up the kitchen from dinner.
There are 6 steps to my morning routine
The whole thing is comprised of three "downs" the night before, and three "ups" the morning of.
1 / Write Down
Write down the things you need to prioritize for the next morning and choose which one you'll start on first, second, third, and so on. No questions the next morning. I've found this to be one of the most helpful things in my morning routine.
2 / Close Down
Save working files, close apps, programs, windows on your computer. Starting fresh the next morning without all the things you were working on the night before will help you focus on what you actually intend to work on in the morning. This includes things like clearing your desk, resetting the kitchen, and so on.
3 / Wind Down
At least an hour before bed, turn off screens and start winding down for the evening. Spend the time getting ready, reading, meditating, whatever you need to do to relax and get a good night's sleep.
4 / Wake Up
I use a wake-up light with a one-hour sunrise simulation that helps me get up in the morning. If you tend to be groggy when waking up, using a light that syncs with a smart hub can be helpful. Playing uplifting music as a part of your morning routine works wonders.
5 / Lay-Up
Similar to the lay-up in basketball—an easy one-handed shot bouncing off the backboard into the basket—these are the easy wins you can do to start your day. Things like making your bed, brushing your teeth, or making your morning beverage of choice.
I like to make my morning shake with this pure creatine and protein powder. Most mornings, I do some affirmations or play the handpan as a form of meditation before I sit down at my desk.
6 / Show Up
Schedule something for the start of your workday to look forward to. We often schedule virtual co-working times in the mornings with other Break the Twitch Community members, where we'll hop on a video call at scheduled times and work together.
These scheduled work sessions have been super helpful in keeping me focused in the mornings. Seeing other people working at the same time (even if they are all around the world) is motivating and keeps me on track.
Otherwise, you can create some form of accountability in your beginning working hours to knock out that number one priority item.
These steps in my morning routine have really helped in getting more focused at the start of each day.
Particularly for a night owl and as someone who works from home, the three downs and three ups have been life-changing. Give these steps a try this evening, and let me know what you think!