Podcast: Play in new window | Download (Duration: 24:11 — 45.6MB)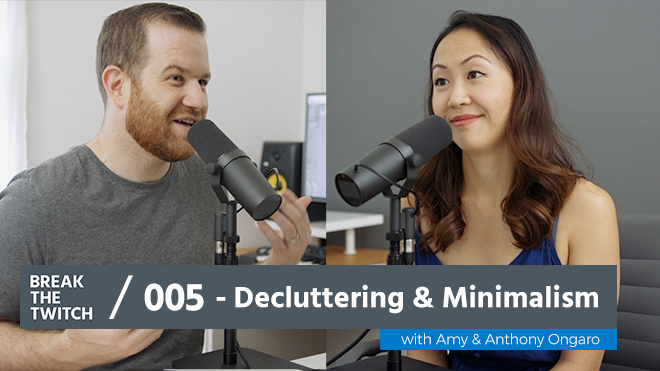 My wife, Amy, and I talk about minimalism, and how it helped us create the space to make big changes in our lives.
Apple // YouTube // Stitcher // Spotify // TuneIn
In BTT 005, Amy and I talk about minimalism, about how we apply it in our lives and what it means to us. We discuss the tough areas for most people—the books, clothing, and kitchen stuff—as well as what decluttering methods worked the best for us. In order to make room for change, it's often necessary to let go of what no longer matters to you. Embracing minimalism has truly has helped us in creating the space to make some big changes in our lives.
If you enjoyed this episode, please leave a review on Apple Podcasts. Every review we get helps boost the Break the Twitch podcast so we can reach more people.
---
Ready to take action with secret member-only content and resources? Join Attention Collective, our online community of like-minded humans from around the world, and get full access immediately. See you inside!
---
Watch the BTT 005 conversation:
The Break the Twitch podcast is an interview-based podcast hosted by Anthony Ongaro featuring guests from all walks of life. See all previous episodes and the latest news on the Podcast page.