Podcast: Play in new window | Download (Duration: 1:12:58 — 136.3MB)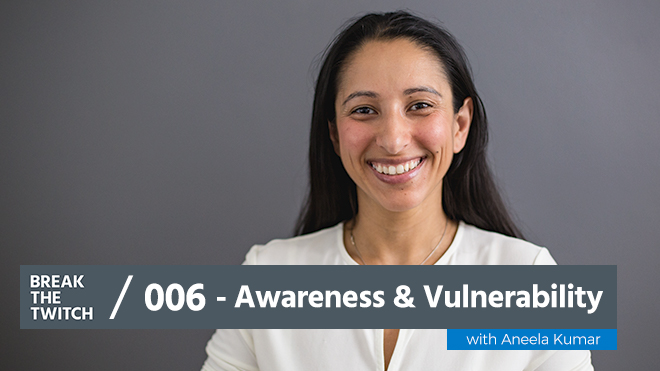 Aneela Kumar, co-founder of HabitAware, talks about the importance of vulnerability and awareness, and how sharing a 20-year secret led her to where she is now.
Apple // YouTube // Stitcher // Spotify // TuneIn
I chat with Aneela Kumar, a wonderful human who's an entrepreneur, mobile app designer and also a mom to two little boys.
She recounts how sharing a secret she's kept for over 20 years led to the creation of a unique smart bracelet that changes people's lives. We discuss the importance of vulnerability, awareness, intentional spending and decluttering with kids—plus the reality of raising a family while running a company. In this episode, you'll not only learn about what trichotillomania is, you'll likely also increase awareness and intentionality in your life.
Learn more about Aneela Kumar and what her team is up to at HabitAware.
If you enjoyed this episode, please leave a review on Apple Podcasts. Every review we get helps boost the Break the Twitch podcast so we can reach more people.
Mentioned
The Alchemist
Life-Changing Magic of Tidying Up
Gold Coast Beats Playlist
---
Ready to take action with secret member-only content and community resources? Join Attention Collective, our online community of like-minded humans from around the world, and get full access immediately. See you inside!
---
Watch the BTT 006 conversation:
The Break the Twitch podcast is an interview-based podcast hosted by Anthony Ongaro featuring guests from all walks of life. See all previous episodes and the latest news on the Podcast page.