Podcast: Play in new window | Download (Duration: 1:13:34 — 137.2MB)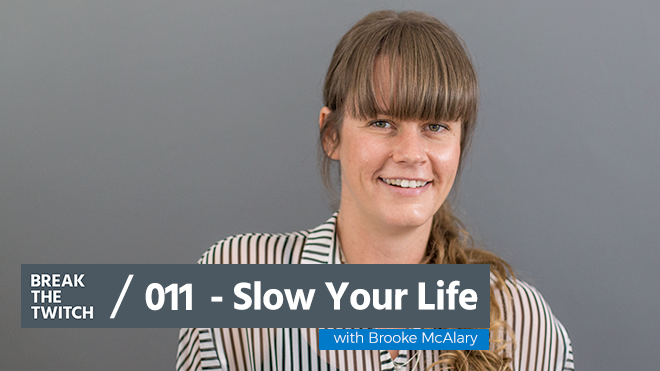 Constantly striving to keep up with the Joneses isn't the only way. Brooke McAlary shares her transition to slow living, and how it's changed her view of success, balance and even the writing process.
Apple // YouTube // Stitcher // Spotify // TuneIn
I'm so excited to share this episode with Brooke McAlary, author, creator of The Slow Your Home Podcast and writer behind the blog, Slow Your Home. She and her family passed through Minneapolis for the U.S. portion of her Slow: Simple Living For a Frantic World book tour and naturally, I jumped at the chance to get Brooke on the podcast.
Brooke shares how she transitioned from striving to keep up with the Joneses to embracing slow in all aspects of life starting back in 2011. We talk about personal definition of success, the elusive work and life balance, creativity, the writing process and more. You'll love the gentle wisdom and thoughtful conversation around slow living in this episode.
If you enjoyed this episode, please leave a review on Apple Podcasts. Every review we get helps boost the Break the Twitch podcast so we can reach more people.
Mentioned:
On Writing by Stephen King
Bird by Bird by Anne Lamott
Zen Habits by Leo Babauta
The Artist's Way by Julia Cameron
---
Ready to take action with secret member-only content and community resources? Join Attention Collective, our online community of like-minded humans from around the world, and get full access immediately. See you inside!
---
Watch the BTT 011 conversation:
The Break the Twitch podcast is an interview-based podcast hosted by Anthony Ongaro featuring guests from all walks of life. See all the episodes and the latest news on the Podcast page.