Podcast: Play in new window | Download (Duration: 37:36 — 70.3MB)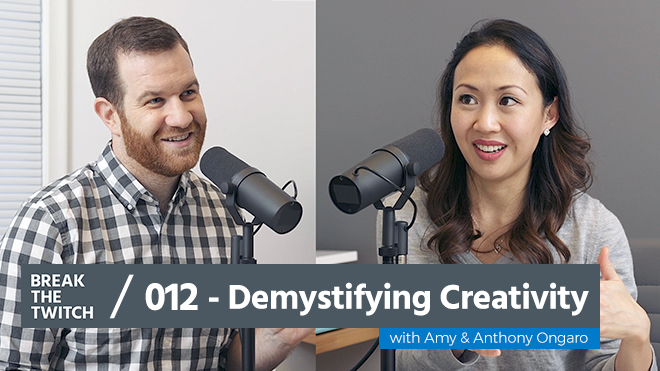 Creativity is often misunderstood. My wife Amy and I work on demystifying creativity by discussing what prevents many of us from being more creative and how we can dig into our own creativity.
Apple // YouTube // Google Play // Stitcher // Spotify // TuneIn
The episode begins with what part creativity has played in our lives. We share our perceptions, experiences, challenges, and strategies for including more creativity in our lives. We talk about the impact certain beliefs, fears, uncertainty, pressure and struggle have on creativity. From minimally viable actions, showing up (even when you don't feel like it), knowing when to evolve and when to keep going—we talk about what we've experienced and learned.
This is the last official episode of Season 1 of the Break the Twitch podcast. Amy and I are excited about making Season 2 even better, in addition to adding more acoustic treatment to improve the audio quality. We're grateful for everyone who's supported our work and make all of this possible.
Mentioned:
Big Magic by Elizabeth Gilbert
On Writing by Stephen King
The War of Art by Steven Pressfield
Minimally viable action
Advice for creating things video
Flow by Mihaly Csikszentmihalyi
---
Join a community of folks who support us in making the intentional content we make on how to better own your attention and build better habits! We appreciate your help in making this all possible.
---
Watch the BTT 012 conversation:
Subscribe to the Break the Twitch Podcast on YouTube.
The Break the Twitch podcast is an interview-based podcast hosted by Anthony Ongaro featuring guests from all walks of life. See all the episodes and the latest news on the Podcast page.