Podcast: Play in new window | Download (Duration: 32:21 — 60.8MB)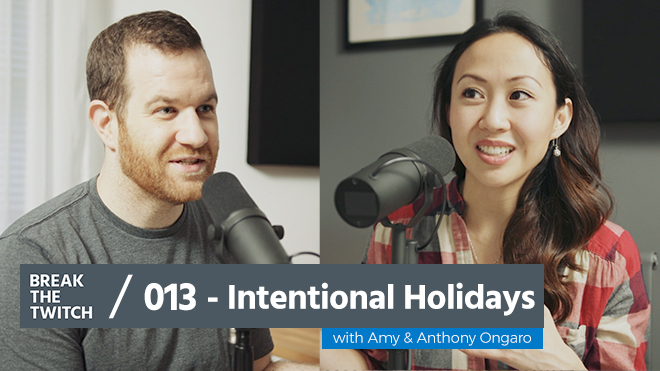 There's another way to celebrate the season while capturing more of the true holiday spirit. Here's our take on a more intentional holiday season.
Apple // YouTube // Stitcher // Spotify // TuneIn
My wife Amy and I discuss the holidays—from our childhood experiences to what changed when we began our intentional living journey. We share the honest discussions we had with our families and some tips to embrace a more intentional holiday season.
As much as we all love the holidays, we can get caught up in the hustle and bustle of the season. From navigating stores and online shopping, buying the perfect gifts, scheduling time with loved ones, and the extra pressure on the pocketbook — we sometimes lose sight of the real reason for the season. We talk about all this, in addition to some fun ways to be more intentional while still staying true to the holiday spirit.
---
Ready to take action with secret member-only content and community resources? Join Attention Collective, our online community of like-minded humans from around the world, and get full access immediately. See you inside!
---
This is a bonus holiday episode of season one on the Break the Twitch podcast. Season 2 will begin on January 9, 2019!
Mentioned:
"… only one percent of the total North American materials flow ends up in and is still being used within, products six months after their sale." – Paul Hawken, Natural Capitalism, (1999) p. 81
Average American debt during the holidays
Ideas for a more intentional holiday season
Watch the BTT 013 conversation:
The Break the Twitch podcast is an interview-based podcast hosted by Anthony Ongaro featuring guests from all walks of life. See all the episodes and the latest news on the Podcast page.