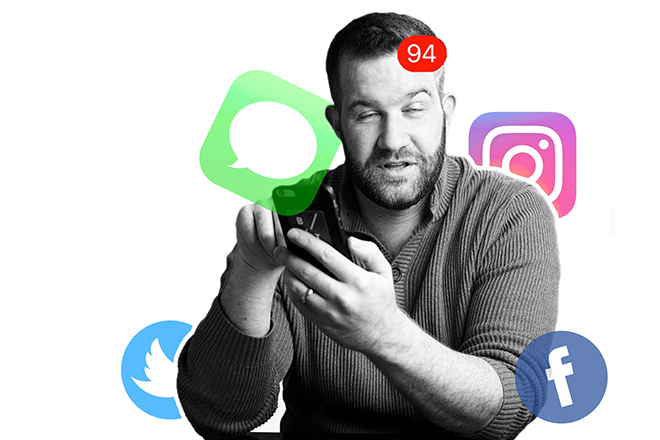 ✕
Free 7-Day Digital Detox
Reduce distractions and create some much needed space in your digital life with this free 7-day email course from Break the Twitch.
We're using smartphones and other mobile devices more than ever before, and there is no shortage of evidence. The vast majority, 81% of us, now own a smartphone. Take a look at any place where people have to wait: stoplights, bus stops, checkout lines, and restaurants. There's no sign that this trend is reversing—despite the fact that high levels of screen time have been shown to have substantial negative effects.
The mere presence of your smartphone is reducing your cognitive capacity.
Over-dependence on smartphones leads to user stress and is correlated to psychological traits including loss of control, social interaction anxiety, and materialism.
There's a strong link between the amount of time teens spend looking at screens and how sad they feel.
Along with that, who knows what issues we'll see surface over the next decade as the technology we use is forced to become even more addictive in order to compete in today's attention marketplace.
Here are some pretty alarming statistics about mobile devices that show you where things are now, and where we're headed.
1 / The average person receives 63.5 notifications per day (Telefonica, 2014).
2 / 52% check their phones a few times per hour or more, whether there's a notification or not (Gallup, 2015).
3 / Meanwhile, 91% of millennials say they have a healthy relationship with tech, but still check their phones 150 times per day (Qualtrics, 2017).
4 / It's not just millennials, though. 52% of boomers use their phones during meal times, the highest percentage of any age group (Nielsen, 2015) and mobile use spans across all generations (Smart Insights, 2019).
5 / The average smartphone user in the U.S. spends around 4 hours per day on mobile devices (eMarketer, 2019).
6 / During which, the average user touches, swipes, and taps their phone 2,617 times per day (King University Online, 2017).
7 / The average age when kids get their first cell phone is now just 10.3 years old (Influence Central, 2016).
8 / 74% of mobile users ages 18 – 34 report an urge to immediately pull out their phone or open an app when bored (ComScore, 2017).
9 / The creators of the Facebook "Like" button substantially limit their own social media usage, and the guy that literally wrote the book about designing addictive smartphone apps has his home internet shut off on an automatic timer every evening (Guardian, 2017).
The question I can't help but ask is: where will we draw the line for the role technology plays in our lives?
With each new innovation, will we allow ourselves to be pulled into every new offering some incremental solution to a problem we may or may not actually have?
Are we okay with voice-controlled convenience (not having to get up to turn off a light), in exchange for a device that listens to our every word and exploits those private conversations to algorithmically determine how to sell us more shit?
Is it okay for our coffee machine to automatically order more single-serving coffee cups when it senses the reserves are low, regardless of what the price is at that moment?
How much of our privacy, attention, and control are we willing to give up in exchange for convenience?
I'm certainly not saying that all technology is bad and should be banished from our lives. But it sure is hard to look at the above statistics and say we don't need to ask ourselves some of these questions.
While it's easy to feel like so much of this is out of our control, that if we want to "keep up" with modern life we need to accept every new technology as it comes, we can make a conscious choice—and that's what I want to help you with.
It's time to take a step back from our mobile devices…
…and seriously consider the answers to the questions above. But you can't do that while you're in the thick of it.
You have to step out of the digital noise. Pause and assess what role your mobile devices should be playing in your life.
You need a digital detox.
Consider this your invitation to join me for a seven-day digital detox, where we'll focus on one small but impactful action each day.
Each step will only take a few minutes of your time. Going through the series will help bring more clarity around how you want to interact with your devices going forward.
To participate, sign up below and I'll send you a welcome email with the next steps. See you there?
The 7-Day Digital Detox
Sign up below to receive the welcome email and additional information for the digital detox series.