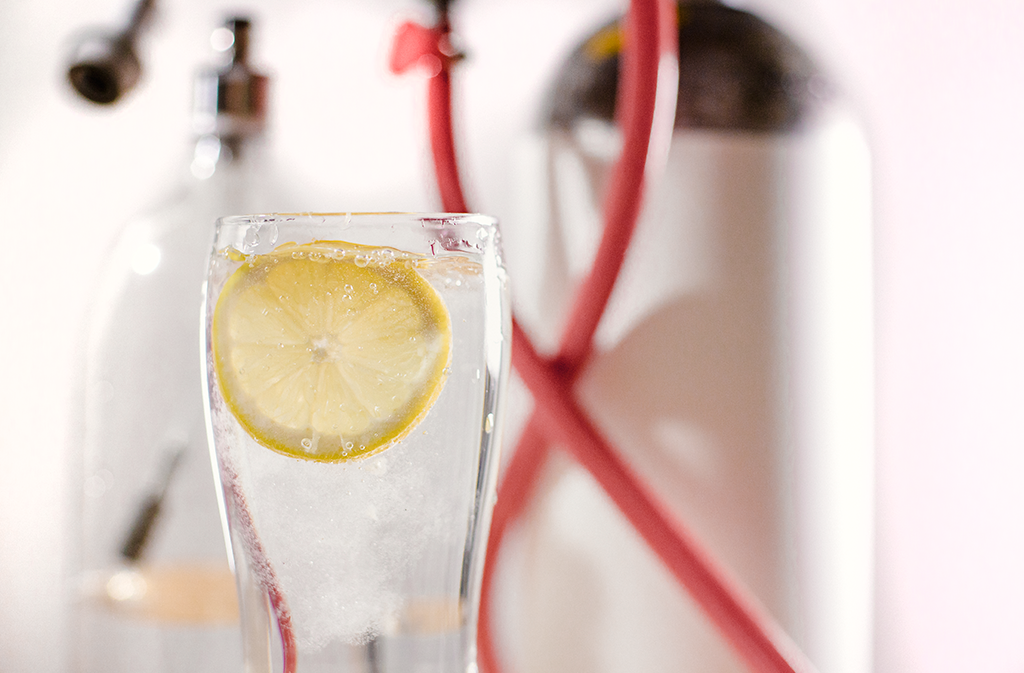 For something a little different here at Break the Twitch, I thought this would be a fun project to share. This was one of our pandemic projects that has brought little bits of joy throughout the year and I thought the BTT family might be interested in doing something similar. Enjoy!
My wife Amy and I really love bubbly water. We used to buy several bottles on our grocery trips, but it started getting impractical. In addition, there's still an environmental impact; even though the glass bottles can be recycled, it still takes energy and resources to go through the process.
Not to mention, these bottles didn't last very long around our house. At around a liter each, they'd barely last a day. After some research, I decided to make a DIY water carbonation system that's more sustainable, cost-effective, and versatile. Yes, you read it right—a sustainable and simple alternative that's actually pretty fun to put together.
Now I know you might say that there are a bunch of solutions like SodaStream that can do that. This alternative is much cheaper, more environmentally friendly, and will basically pay for itself in just a few months.
The really cool thing about this system is that it can carbonate more than just water—more details on that below.
What you need to make your own DIY Water Carbonation System:
Bottle Cap (there are other options, but this steel one will last longer)
5 lb CO2 Tank: Get this from a local brew or hardware store. We got ours from a local brew store for $80 upfront with a $20 refill exchange.
2 Liter (or any size) standard plastic soda bottles: We don't drink soda, but we bought 3 of these large bottles for this purpose and plan on switching them out every six months or so. The plastic bottles allow for the expansion when carbon dioxide enters the bottle.
Cold water: Fill the bottle with water until the level is about 80% from the top and chill in the refrigerator for at least a couple of hours before carbonating. The empty space is so the CO2 has space to come in. The cold water helps with enhancing the fizziness. I'm not a scientist, but I read it on the internet, so it must be true.
Flavorings: Optional. There are tons of flavorings available based on your preferences! We prefer our bubbly plain most of the time but also enjoy flavorings from the source (i.e. squeezing some fresh lemon or lime) or making our own mineral water with baking soda and food grade magnesium sulfate and potassium bicarbonate.
Instructions for DIY Water Carbonation System and Making Bubbly Water
1 / Get the regulator for the CO2 tank and connect it to the hose.
2 / Once the regulator is connected to the hose, ensure that your output is turned off. Please double-check that your output is turned off before connecting it to the CO2 tank. You can clean out any dust in the hose by simply opening it slightly to let some air out before quickly closing it again.
3 / After cleaning out the hose for any dust, connect the regulator to it. Use a wrench to tighten, and for safety purposes, double-check that it's secured well.
4 / When the hose, regulator, and CO2 tank are all hooked up, connect the valve at the end of the hose and use a wrench to tighten.
5 / Now that you have your system set up, you're almost ready to charge up your water! Cold water works best, so if you don't already have a bottle of water chilled for at least a couple of hours, fill up a bottle with water and put it in the fridge. Then come back to the next step when the water is chilled. If making mineral water, you can put in 1/4 teaspoon each of baking soda, magnesium sulfate, and potassium bicarbonate right into the bottle and mix well before putting it in the fridge.
6 / Next, remove all the air from the space you have left in the bottle by squeezing it as much as you can without spilling any water out. This makes room for the CO2 to come into the bottle. With the air squeezed out, put on the carbonation bottle cap securely.
7 / Next, attach your hose to the bottle cap and open up the valve, starting with 20 psi. Once the valve is open, the bottle will inflate back out with the incoming CO2. If you want a more aggressive fizz (think Topo Chico), you can try up to 45 psi.
8 / Now, shake the bottle. An easier and what I think superior shaking technique is holding the bottle around the top and swirling it for about a minute.
9 / After this, close the valve of the CO2 tank. You can also completely close the CO2 tank at the top, but you don't need to do that unless you want to.
10 / Detach the bottle cap from the hose, being careful not to twist off the cap too quickly unless you want a missile launching off somewhere in the house (I learned this the hard way). I like to twist it off partially and let the pressure seep out before fully loosening the cap.
11 / Pour yourself a glass of bubbly water and enjoy! Or you can add in your flavorings as desired at this point.
So there you have it! You now have your very own DIY water carbonation system that's zero waste and much more cost-effective.
You can store your CO2 tank system in a safe place, and I'd suggest securing it to the wall for ultimate safety.
Additional Note
One more reason that this DIY water carbonation system is so amazing is that it can carbonate more than just water. You can create a sparkling wine, sparkling apple juice, bubbly bourbon, or even re-carbonate your soda.
As long as it's a clear liquid (and chilled in advance), you can carbonate it. We prefer to use smaller bottles for this purpose: about 300 ml for about a glass and a half of sparkling wine, or 500 ml for two glasses worth.
I hope you've enjoyed reading about this fun project. Cheers!