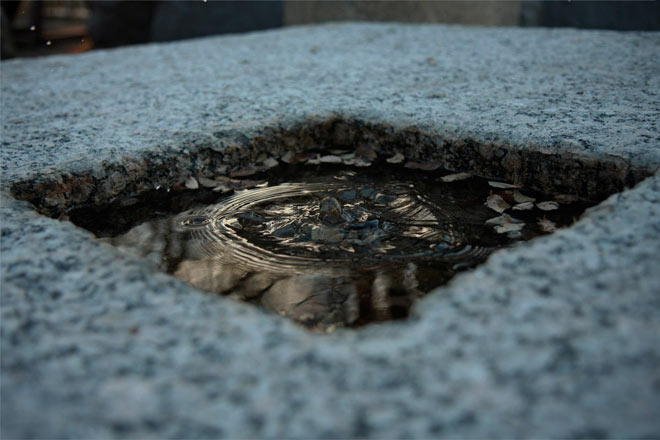 Moving towards minimalism and getting rid of many of possessions might seem pretty overwhelming, but keep in mind that we don't have to do it all at once.
Even small improvements can be very powerful.
Remember, it's up to you to decide what minimalism means in your life. Although we've been working on this since late November, it still feels like we're right in the middle of it all. There are still areas of the house to improve, areas that still feel 'heavy' with things.
Although we're not done, the minimalism effect from what we have accomplished is profound.
1. We look forward to coming home, even more.
Walking into our living room, kitchen, bedroom and finished basement has become a different experience entirely.
Surfaces like tables, dressers and countertops are clear and clean. The visual distraction that usually comes with a change dish on the coffee table isn't there.
The process of minimizing our things is best described as "being relieved of a tension we didn't know we had."
It takes us about one minute to "clean up" if guests are coming over that evening. We're spending less time organizing our home and it makes it even more of a pleasure to come home to knowing there isn't a ton of work waiting for us.
2. My laundry world has changed forever.
Laundry has been the bane of my existence ever since I've had to do it on my own.
Clothes on the floor in piles, not sure what was clean or dirty. It took HOURS to sort, wash, then fold and put away laundry because I'd waited so long between washes and had so much extra clothes. Inevitably living with my wife, Amy, helped me change a lot of those habits for the better, but laundry in general was still such a pain.
Ever since donating two-thirds of my clothing in December, I absolutely love every bit of clothing I own and treat it as such. The shirt I sleep in, gets folded and placed on the pillow instead of tossed randomly. I no longer resent doing laundry, because I'm not spending time cleaning clothing I don't even like anymore. Everything is folded or hung if I'm going to wear it again, with not a single item thrown on the floor.
The very best part? My laundry takes about 15-20 minutes of manual work (not including the time in the washer & dryer). If that's not life-changing, I don't know what is.
3. Turning things back into money.
It's hard to realize the true value of the things around you. Until you start selling on Amazon, eBay and Craigslist like a mad-person. All of the sudden you start to realize that the things left ignored for months… years… have at times, significant monetary value. $20 here and there might not seem like much, but just like spending $20 at a time adds up, earning it back does too.
At this point, we've sold well over $1000 worth of old computer equipment, cameras, old trading cards, etc. The idea of leaving that much cash just sitting in a closet in the basement is absolutely insane to me, so why were we allowing that money to sit in the form of unused stuff? In retrospect, it seems absolutely crazy – but when we started the process it got easier and easier. The more we sold, the more exciting it got to find more things to sell.
The minimalism effect has been greater than we anticipated, and we're not even done yet. If you need some extra inspiration around minimalism and intentional living, many readers have found my latest book, Break the Twitch, to be helpful.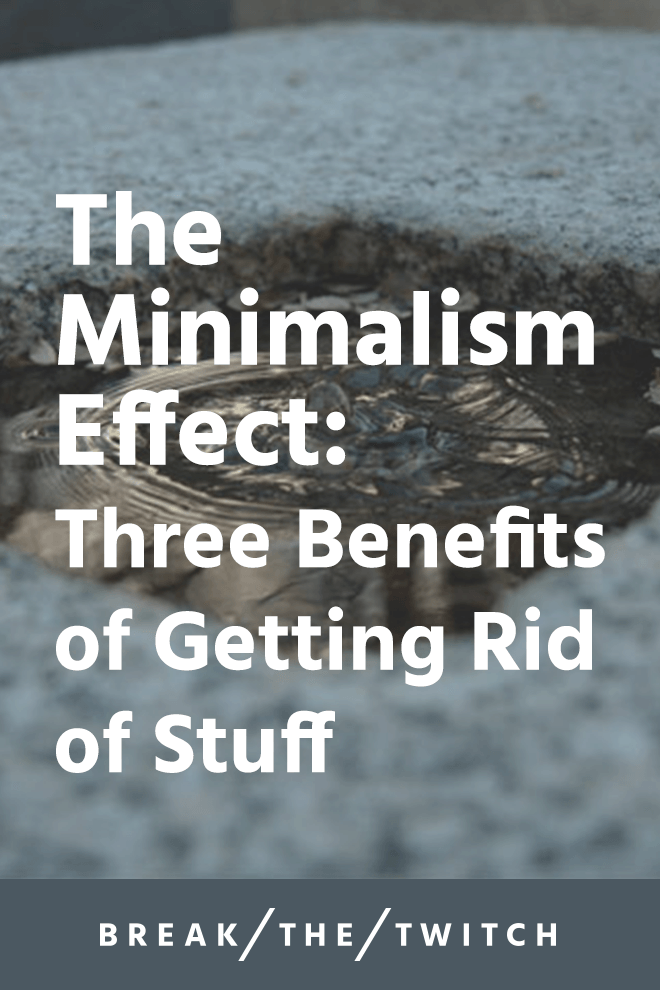 Free 7-Day Digital Detox
Create some much needed space in your digital life with this free 7-day email video series from Break the Twitch.