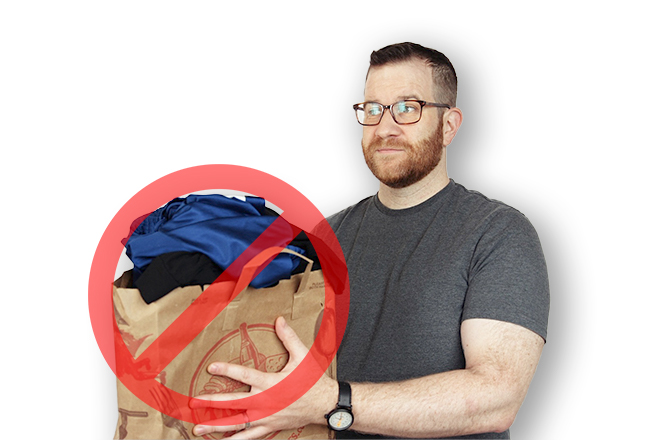 Thanks to the minimalism movement sweeping the globe, many of us are getting rid of tons of stuff. In fact, donation centers are receiving more clothing and goods right now than ever before—and while that might seem like a good thing, it's actually a problem. It's a big enough problem that what we need is for people to stop donating.
It's great to thoughtfully donate items in good condition based on what organizations can actually resell or use. But many centers are so overrun with stuff that realistically no one wants. They simply don't have the human-power to process through everything, and many items end up in the landfill.
✕
Free 7-Day Digital Detox
Reduce distractions and create some much needed space in your digital life with this free 7-day email course from Break the Twitch.
Here are the reasons why you should stop donating as the default.
1 / Regain Monetary Value
There's an obvious reason you should seriously consider selling things instead of donating or giving them away. Money, of course. It's very likely that you spent money on the things you own, so why not recapture some of that value in the process of letting go? This can be especially helpful if you went through a heavy consumerist phase or are trying to pay down debt.
While it can be a lot of work selling off each item, getting some money back is positive and there are even more benefits to selling, as you'll see down below.
2 / Sustainable Lifestyle Change Takes Effort Over Time
Truly shifting your lifestyle from a consumer-based to a more creator-based approach takes time and effort. It's not something that happens overnight. If you bear the pain of going through and dealing with each item, you are more likely to change as a person and evolve through the decluttering process. Selling off your items one by one is a conscious act and reminder to be more intentional with future items you bring into your life.
Dropping a bunch of things off at the donation center really just makes your clutter someone else's problem. Julie Kearns, season two podcast guest, and advocate for conscious consumption, shares the importance of being a responsible owner of the full product lifecycle—from beginning to end.
Over the past several years, and especially the two months before our big move, Amy and I sold a lot of our furniture and items. Individually dealing with the items worth selling definitely helped reinforce more intentional buying behavior going forward.
3 / If You Can't Sell It, Neither Can Someone Else
Another benefit of selling instead of donating an item is it's an indication of whether it's really something that ought to be donated. If no one wants to buy it from you, what are the chances that someone else will be able to sell it, including the donation center?
There are certain exceptions though, depending on where you live and local organizations around you. This is where doing some research and thoughtfully donating can be very beneficial. Animal shelters will often gladly take clean, used towels and blankets, among other household things. Homeless or transition shelters will often take toiletries, makeup, towels, books, and many other household items. Checking with local organizations is a great way to intentionally donate items you no longer need or want.
4 / Paying Increases Perceived Value + Product Lifecycle
When someone is specifically looking for your item and is willing to pay for it, they'll appreciate the item more. The person also has a higher likelihood of using the item. This extends the product lifecycle of the item. It also results in a lower carbon footprint since the person didn't buy a new item.
It's also a great feeling knowing your unwanted or unused item is going to a motivated buyer. As we were selling off our things, it was reassuring to know that people had a need for those items.
5 / More Likely To Buy Used (Save Money, Reduce Consumption)
Another reason to stop donating is you're more aware of how much value is lost once an item is no longer new. You start realizing the value of buying used. The most sustainable item is the one that already exists. Not only is it much more environmentally friendly, but many used items are also just as good, if not better than new. Older items sometimes are composed of better materials and thus, last longer.
Before leaving Minneapolis, I bought this awesome electric guitar from my friend Adam. I researched amps to play the guitar through and discovered they were $600 new. Searching on Craigslist, I found the exact amp for $300 instead. It was actually better than buying new since older, mechanical amps have a soulful sound that the new ones just don't have.
It can be a wonderful thing to donate items in good condition, that are usable, needed, or easily resellable. But it's time for us to take more ownership of the full product life cycle.
Simply collecting items and donating them just transfers the problem from your home to another location. For the record, I think donating usable, practical things, or giving things to people that need them is wonderful. Still donate things. Just don't default to it.
Selling items gives you money back, reinforces a more intentional mentality, and is better for the environment. If you can't sell it, there are other ways to thoughtfully declutter things from your life. For more ideas on what to do with your decluttered things, check out this intentional decluttering guide.