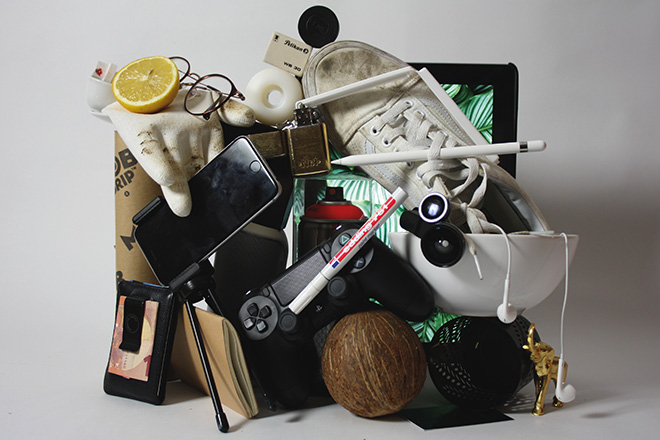 With the rising popularity of minimalism, many of us are decluttering our possessions at an increased rate. It's to the point where donation centers are running out of space and paying for additional storage or disposal costs.
The truth is, most donated items still end up in the landfill.
Really, the biggest impact you can make is to be more intentional with the items you let into your life. Being a conscious consumer starts with the sourcing and production of the item. It continues with buying less, taking care of your things so they last longer and disposing of them responsibly when the time comes.
But how can we thoughtfully declutter the items we already have?
If you're wanting to thoughtfully declutter, here's an intentional decluttering guide:
1 / Selling items worthwhile to sell
There are many reasons to stop donating and sell your items first. The obvious one is to make some money back, but it also leads to a more intentional mindset and sustainable product cycle.
It comes with some extra work. Work such as taking pictures and measurements, listing the item, to negotiating and coordinating with potential buyers. It could also be visiting consignment and resale shops to see what they're willing to take and what they're willing to pay.
We see the extra work as a good thing though. If you bear the pain of dealing with each item, you are more likely to evolve throughout the decluttering process. Selling off your items one by one is a conscious act and reminder to be more intentional with future items you bring into your life.
Selling isn't always worth your time for certain items—depending on your schedule and what a worthwhile dollar amount is for you. But selling whatever items you're able to gives you money back, reinforces a more intentional lifestyle and is better for the environment.
It can take awhile to sell certain things like furniture or a specialty item, so give yourself at least a couple weeks to a few months. The best situation is to be in no hurry to sell. That way, you have the ability to wait around for a good offer from someone or for the right person to come across your listing. Coming soon, we'll share a post on selling tips and the best places to sell certain items.
2 / Swapping with or giving to friends and neighbors
Another excellent decluttering option is to check with your friends and neighbors. As Anthony and I were figuring out what to declutter and what to keep before the big move, we had in mind people who we thought could use certain items. Organizing a stuff swap can also be a great excuse to hang out with friends while minimizing—as long as you don't come back with new-to-you items (but hey, it happens).
You can also post free items on sites like Nextdoor (a social network for your neighborhood), Facebook Marketplace or Craigslist. There are also organizations like The Freecycle Network in many cities around the world centered on giving and getting stuff for free. Leaving items by the driveway or on the front lawn with a sign marked "Free" may also result in a magical disappearing act. But if that doesn't work, go on to the next decluttering option in this intentional decluttering guide.
---
Ready to take action with secret member-only content and community resources? Join Attention Collective, our online community of like-minded humans from around the world, and get full access immediately. See you inside!
---
3 / Donating useful items
One thing to consider before donating an item is whether or not it will actually be useful to the donation center or organization. If you can't sell it or give it away to someone who wants it, what are the chances the donation center can?
Less than 20% of all donated clothing actually gets worn by someone else. Most organizations don't have enough manpower to sort through all donations—much less fix up dirty, damaged or broken clothing, furniture or appliances. Unuseful donations end up costing the organizations money and contributing to landfills across the world.
Depending on the local organizations near you, donating thoughtfully is a great way to declutter things you no longer need or want. Many organizations—donation centers, thrift stores, homeless shelters, schools, educational or arts programs, nursing homes, to animal shelters—have a list of items they actually want and need.
For example, animal shelters are usually in need of used towels, blankets, cleaning supplies, among other household things. Homeless or transition shelters will often take food pantry items, toiletries, clothing and many other household items. Depending on where you live, there may be nonprofits that specialize in recycling electronics, creative materials reuse or distributing used art supplies and books. Many cities have a donation, recycling and disposal resource list on their website. Checking online or calling to ask what donations will be helpful is a win-win for you, those organizations and the earth.
4 / Responsibly disposing of everything else
Before tossing an item away, consider if the item can be reused for another purpose. For example, worn cloth materials (that can't be recycled) can be used for cleaning rags or an old shower liner can be used as a tarp. If you're not able to sell, give, donate or reuse, the last option is to responsibly dispose of the item.
Composting is the best option for disposal.
Expired food, most food scraps, pizza boxes, cardboard egg cartons, used paper napkins, coffee grounds, tea bags or cotton swabs—these items can usually be composted if your city has a municipal composting program. If you maintain a backyard compost, you'll mainly be composting veggie and fruit food scraps and perhaps these other items.
If you can recycle the item, that's the next best option.
There are many items that often end up in the city recycling, but really shouldn't be there. Pizza boxes (grease from the pizza is a no-no), used coffee cups (there's an inside layer of wax), plastic bags (needs a specialized facility) and paper towels (too fragile and often mixed with food particles) are common culprits. Checking with your city's recycling guidelines will help you recycle more responsibly.
Things like old shoes and socks, carpets and rugs, broken appliances, computers, eyeglasses, and CDs can usually be recycled. You can recycle worn clothing and other materials at municipal or textile recycling centers. Big companies like Best Buy will take broken electronics and household appliances like vacuums, hair dryers and fans. Many nationwide grocery stores like Trader Joe's will recycle plastic bags. When we lived in our home in Minneapolis, we had neighbors who would take items to sell as scrap metal.
The last decluttering guide option is the trash.
Many items end up in the trash that shouldn't be there. Things like batteries, light bulbs, paint cans, and cleaning supplies are hazardous for the environment when simply thrown in the trash. Most places have waste centers for these hazardous materials, so check on the waste guidelines for where you live.
So there you have it, decluttering options ordered from most preferable to least in this intentional decluttering guide. If you have additional ideas on how to intentionally declutter, I'd love to hear them.
The biggest positive impact you can make is to consume, buy and accumulate intentionally going forward.
Consuming less, buying ethically and sustainably, and making things last longer. These are all ways we can lessen the clutter and the need to declutter in the first place.
As part of our intentional living journey, Anthony and I are learning more about zero waste practices. Zero waste can take some getting used to, and we're not perfect in our efforts. But we're trying our best and figuring out what works for us.
And that's the message we'd like to leave you with. Hopefully this decluttering guide has given you more ideas on how to intentionally declutter. But know also that you're not going to be perfect and that's okay. We aren't either. There's no such thing as perfect. What we need is more people trying their best to be better stewards of the full product lifecycle.