Podcast: Play in new window | Download (Duration: 38:44 — 72.4MB)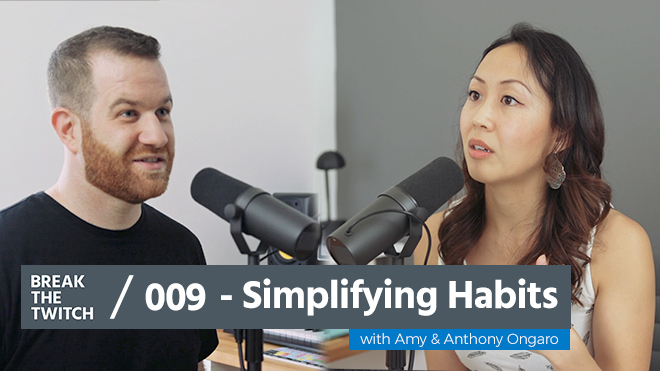 My wife, Amy, and I share our take on simplifying habits. We talk about why most attempts at building habits fail and how to build habits effectively.
Apple // YouTube // Google Play // Stitcher // Spotify // TuneIn
We discuss what led to our focus on building habits, the best way to start, and how to keep habits successfully over the long term. When you think about it, almost everything we do is really a habit. Once something becomes a habit, it becomes easier and easier—for better or worse. Building the habits we want to in our lives is how we can make incredible, lasting changes over a lifetime. This podcast episode will inspire you to start small, build some habits, and restart when life inevitably happens.
If you enjoyed this episode, please leave a review on Apple Podcasts. Every review we get helps boost the Break the Twitch podcast so we can reach more people.
---
Join a community of folks who support us in making the intentional content we make on how to better own your attention and build better habits! We appreciate your help in making this all possible.
---
Mentioned
A guide to lifestyle experiments
More important than good habits
A procrastination hack that actually works
Reddit progress pics
Newton's 3rd law
Watch the BTT 009 conversation:
Subscribe to the Break the Twitch Podcast on YouTube.
The Break the Twitch podcast is an interview-based podcast hosted by Anthony Ongaro featuring guests from all walks of life. See all the episodes and the latest news on the Podcast page.